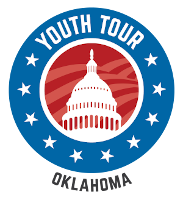 Washington Youth Tour Essay Contest
Essay Submission Begins Tuesday, Jan. 3rd, 2023
Essay Submission Deadline is Friday, Mar. 3rd, 2023 by 4pm
Experience the Wonder of Washington, D.C.
For over 50 years, VVEC has sent high school students from across our service territory on a week-long, all-expense-paid visit to the nation's capitol as VVEC's delegates to the Washington Youth Tour.
Students on Youth Tour learn about electric cooperatives, experience American history and witness our government in action. They participate in National Youth Day, visit with members of our Congressional Delegation, and tour many famous Washington D.C. sites such as the U.S. Capitol, Arlington Cemetery, Jefferson, Lincoln, and Washington Monuments, Smithsonian Institution, and the Pentagon, along with taking a cruise on the Potomac River.
VVEC's Youth Tour delegates travel with delegates from other Oklahoma electric cooperatives, chaperones and Youth Tour coordinators. They also get to interact with students from across the nation. Friendships made on Youth Tour are memorable, enjoyable, and some of the most rewarding aspects of the trip.
Objectives of Youth Tour are:
Educate students about the role of electric cooperatives in the national economy.

Foster students' appreciation of the democratic form of government.

Expose students to the sights and sounds of our nation's heritage.

Build students' leadership skills so they may make a difference in their communities.
Youth Tour delegates come away from the once-in-a-lifetime trip with a greater understanding of what it means to be an American, and of the responsibility and privilege of American citizenship.
To compete, students must be a junior this year, single, and attending high school in VVEC's service territory. The student's parents do not have to be members of VVEC.
To view and download the Youth Tour Information Packet, including the essay topic and entry form, select one of the following:
Rules and Regulations
Youth Tour Video
Youth Tour Application/Entry Form
Youth Tour Study Book
Consumers in Action
Co-op Q&A
What is Youth Tour?
For more information on VVEC's Washington Youth Tour, contact program coordinators Misti Frazier at mfrazier@vvec.com or Regina Morris at rmorris@vvec.com or (918) 371-2584 for more information.
Origin and History of the Washington Youth Tour
Texas Senator Lyndon Baines Johnson inspired Youth Tour when he addressed the National Rural Electric Cooperative Association (NRECA) Annual Meeting in Chicago in 1957. The Senator and future president declared, "If one thing goes out of this meeting, it will be sending youngsters to the national capital where they can actually see what the flag stands for and represents."
Consequently, some Texas electric cooperatives sent groups of young people to Washington to work during the summer in Senator Johnson's office. In 1958, a rural electric cooperative in Iowa sponsored the first group of 34 young people on a week-long study tour of the nation's capital. Later that same year, another bus load came to Washington from Illinois. The idea grew and other states sent busloads of young people throughout the summer. By 1959, the "Youth Tour" had grown to 130 youth.
In 1964, NRECA began to coordinate joint activities among the state delegations and suggested co-op representatives from each state arrange to be in Washington, D.C. during Youth Tour week. The first year of the coordinated tour included approximately 400 young people from 12 states. Word of the program has continued to spread and today over 1,500 young people and their chaperones participate in Youth Tour every year. The statewide Youth Tour directors arrange their delegation's visits to their U.S. Representatives' and Senators' offices, federal agencies, and other educational and sightseeing activities. In addition to the planned statewide activities, the Youth Tour experience encompasses multi-state activities coordinated by NRECA.